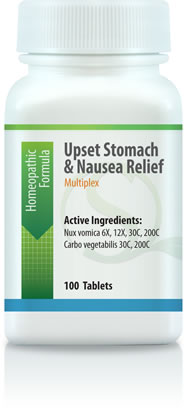 Print Friendly Version
Upset Stomach & Nausea Relief - Nux Vomica
Key Points
Promotes peristalsis and optimal bowel movement
Soothes the central nervous system
Enhances respiration
Formula Ingredients
Derived primarily from the Strychnos Nux Vomica tree indigenous to South East Asia, Nux vomica is generally used to establish equilibrium in the body by stimulating and toning atonic musculature of the digestive and vascular systems. It has been shown to promote peristalsis and optimal bowel movement, addressing nausea, flatulence, constipation, diarrhea, and general dyspepsia. It has also been used to soothe and calm an irritable central nervous system, minimizing mental strain, headache, and insomnia. Nux vomica enhances respiration, circulation, and muscle integrity enabling relaxation.
The addition of Carbo vegitabilis, or wood charcoal, enhances digestive and venous circulation thus synergistically ridding the body of mental, emotional, and physical stagnation.
Dosage: Adults and children above 6 years take 4 tablets under the tongue. Repeat every 1-2 hours for acute conditions, every 3-4 hours for less acute conditions. Infants and children to 6 years, 1/2 the adult dosage diluted in 1 teaspoon of water and spoon-feed.
Active Ingredients:
Nux vomica 6X,12X,30C,200C,
Carbo vegetablilis 30C, 200C

Inactive Ingredients:
Magnesium stearate 1%, Lactose USP"
Promotes peristalsis and encourages regular normal bowel movements. Relieves gastrointestinal complaints including diarrhea, flatulence and nausea. Soothes the central nervous system and enhances respiration.