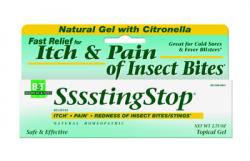 Print Friendly Version
Sssting Stop Gel - 2.75 OZ
Sss sting Stop Insect Gel Homeopathic Boericke & Tafel - Nature's Way
StingStop combines three natural homeopathic (HPUS) medicines prepared from botanical sources and providess dependable insect bite and sting relief. Relieves itch, pain & redness of insect bites and stings
Also Soothes fever blisters & cold sores
Natural Homeopathic Gel with Citronella
Safe, No Side Effects
Clinically tested, proven effective! The London School of Hygiene and Tropical Medicine conducted two double-blind clinical studies using mosquitos which had not been fed for 24 hours and human volunteers. The test prove conclusively that the medicines in StingStop provide dependable, effective relief. Safe for you and your family! StingStop combines three natural homeopathic (HPUS) medicines prepared from botanical sources. It contains no hydrocortisone or other steroids, no antihistamines, no novacaine pain killers, no synthetic medicines of any kind. Indications: Temporarily relief of itch, pain, and redness of non-poisonous insect bites and stings-mosquitos, bees, wasps, etc. Soothes fever blisters & cold sores. Directions:
For Adults & Children 2 years and older: Apply to affected skin area. Repeat as needed.
Children under 2: Consult a doctor. Warnings: To help you take good care of yourself, we offer the following: If condition worsens, or does not improve within 7 days, consult a doctor. Keep out of the reach of children. For external use only. Avoid contact with eyes. In case of accidental ingestion, seek professional assistance or contact a Poison Control Center immediately. Active ingredients: (HPUS): Echinacea angustifolia 1X 10%, Ledum palustre 1X 10%, Urtica dioica 1X 10%. Inactive ingredients: include Citronella oil & Eucalyptus oil in a water gel base. Store at room temperature out of direct sunlight.