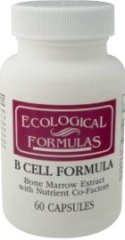 Print Friendly Version
B Cell Formula - 60 CP
B Cell Formula - Ecological Formulas, Cardiovascular Research.
Ingredients:
Bone marrow 150 mg
Spleen 250 mg
Liver 250 mg
Ascorbic acid 100 mg
B-cell formula is an extract containing specially prepared fractions of bone marrow with synergistic glandular extracts. Very beneficial when used with T-cell Formula.
Suggested Use: 2 capsules per day.