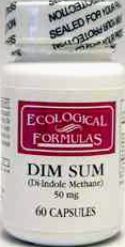 Print Friendly Version
Dim Sum - 60 TB
Dim Sum 50 mg 60 capsules (di indole methane) - Ecological Formulas, Cardiovascular Research.
Dim Sum is a scientifically-designed nutritional supplement containing Di-Indole Methane in conjunction with folic acid. Dim Sum is absorbed to Multilameller liposomes for maximal absorption.
Serving size: 1 capsule
Servings per container 60
Folic acid 200mcg
Di-Indole methane 50 mg
Lecithin 4 mg
Other ingredients
Cellulose
Calcium stearate
Silicon dioxide
Suggested use
Take 1 or 2 capsules daily, or as directed by a physician.