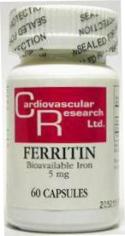 Print Friendly Version
Ferritin - 60 CP
Ferritin - Ecological Formulas, Cardiovascular Research.
Ferritin is the major iron storage protein in the body and provides the most bioavailable form of iron.
Ingredients per capsule:
Calcium 50 mg
Iron (from Ferritin) 5 mg
Other ingredients: Cellulose, Magnesium Stearate and Silicon Dioxide.
Suggested use:
Take 1-2 caps daily, or as directed by a physician.