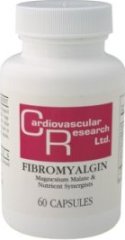 Print Friendly Version
Fibromyalgin - 60 CP
Fibromyalgin - Ecological Formulas, Cardiovascular Research.
Dietary Use:
1-2 caps daily, or as directed by a physician.
Ingredients:
Glucosamine Sulphate 200 mg, Collagen Type II (a fraction of chicken collagen that supports the immune system) 60 mg, Magnesium (Malate) 50 mg, L-Carnitine 25 mg, D-Phenylalanine 10 mg, Thiamine (TTFD) 10 mg, L-Carnosine 2 mg.