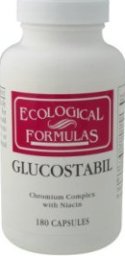 Print Friendly Version
Glucostabil - 100 CP
Glucostabil - Ecological Formulas, Cardiovascular Research.
Glucostabil, also known as Hypoglyform. Chromium Complex with Niacin. Glucostabil is a scientifically-designed dietary supplement containing non-yeast GTF in conjunction with other synergists. In addition to trivalent chromium, reduced glutathione and niacin, (the core constituents of the GTF molecule) it incorporates alanine and high-methoxy pectin (from apple pomace).
Ingredients:
Alanine 125 mg
Pectin 300 mg
GTF containing Chromium 50 mcg
Glutathinone Complex 60 mg
Niacin 15 mg
Pectin source is apple

Suggested Use:
2 caps before meals or as directed by a physician.