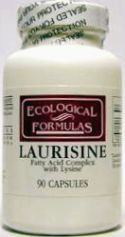 Print Friendly Version
Laurisine - 90 CP
Laurisine - 90 CP - Ecological Formulas, Cardiovascular Research.
Lauric Acid in and Inosine base 200 mg and Lysine 200 mg - Prevents Viral Replication Blocking Capsid Coating.
Use: Take 1 to 6 caps one hour before breakfast.
Ingredients: Lauric Acid 200 mg, lysine 200 mg. This is a glycerol ester derived from a fatty acid.