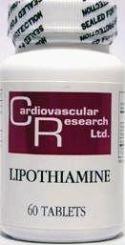 Print Friendly Version
Lipothiamine Fat Soluble B1 - 60 TB
Lipothiamine 60 TB by Ecological Formulas - Cardiovascular Research
A Dietary Supplement
Supplement Facts
Serving Size: 1 tablet
Servings Per Container: 60
Amount Per Serving:
Thiamine Tetrahydrofurfuryl Disulfide (Vit. B1) 50 mg
Alpha Lipoic Acid (Thioctic Acid) 7.5 mg
Other Ingredients: Dicalcium Phosphate, Cellulose Derivative, Magnesium Stearate, Silicon Dioxide.
Lipothiamine is a scientifically designed food supplement and represents the biologically-active form of vitamin B1
Detoxification and energy metabolism support with fat soluble B1, TTFD - Tetrahydrofurfuryl Disulfide.
Directions: Take ore or two tablets daily, or as directed by a physician. These tablets should be swallowed intact and not be chewed.