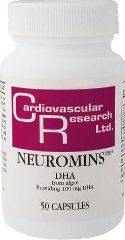 Print Friendly Version
Neuromins (DHA) - 100 MG - 50 CP
Neuromins (DHA from algae 100mg) - Ecological Formulas, Cardiovascular Research.
Each capsule contains 500 mg of DHA oil supplying 100 mg DHA (Docosahexaenoic acid), Vitamin C (ascorbyl palmitate) and vitamin E as antioxidants.
This edible oil is derived from an organic vegetable source cultivated under highly controlled conditions. It contains no artifical colors or EPA. Source of oil is Algal oil and High Oleic Sunflower oil.
Suggested Use
For use as a dietary supplement, take one capsule daily with a meal. Keep out of reach of children.