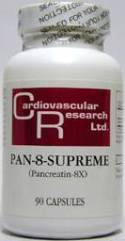 Print Friendly Version
Pan 8 Supreme - 90 CP
Pan-8-Supreme 125 mg 90 caps - Ecological Formulas, Cardiovascular Research.
Contains digestive enzymes of the highest purity and potency. The freeze- dried glands are centrifuged to remove the low density lipoproteins. The enzymes are preserved in a base of glycerin to prevent denaturation in the gastrointestinal track.
Suggested Use:
Take 1-2 caps before each meal.