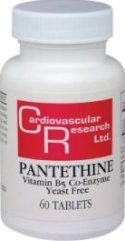 Print Friendly Version
Pantethine - 60 TB
Pantethine 60 tabs - Ecological Formulas, Cardiovascular Research.
Ingredients:
Vitamin B5 300 mg
Pantethine 165 mg
Pantothenic acid 135 mg
Pantethine is the biologically active intermediate form of pantothenic acid (Vitamin B5). Pantethine occurs as a viscous liquid within the tablet. Contain no corn, soy, yeast, wheat or other common food or chemical allergens.
Suggested Use:
1 to 3 tabs daily.