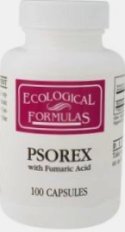 Print Friendly Version
Psorex - 120 MG - 100 CP
Psorex 100 caps 120 mg - Ecological Formulas, Cardiovascular Research.
PSOREX is a scientifically designed supplement containing reagentgrade fumaric acid and other specialized nutients. Contains no corn, soy, yeast, wheat or other common allergens.
Per cap: 120 mg of Fumaric Acid
Directions:
Take one to three capsules daily or as directed by physican.