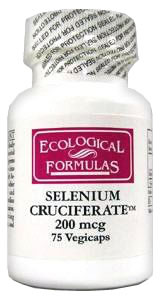 Print Friendly Version
Selenium Cruciferate - 200 MCG - 75 VCP
Selenium Cruciferate 200 mcg 75 Vege Caps - Ecological Formulas, Cardiovascular Research. More then double the count for only one dollar increase!!
Ingredients:
Each capsule contains:

Selenium (cruciferate) 200 mcg. Organically-bound Phytochelation. Source: Hydroponically culivated mustard greens. Bioavailability of trace minerals is analyzed by sequential extraction.
Directions: Take one capsule daily, or as directed by a physician.