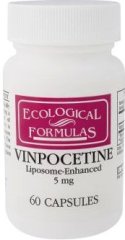 Print Friendly Version
Vinpocetine - 60 CP
Vinpocetine 5 mg 60 capsules - Ecological Formulas, Cardiovascular Research.
Ingredients:
Each capsule contains:
Calcium 47 mg
Vinpocitine (Liposome-enhanced) 5 mg.
Vinpocitine is a scientifically designed supplement containing a standardized natural extract is absorbed to multilamellar liposomes to enhance maximal absorption.
Suggested Use:
Take one to two capsules daily, or as directed by a physician.