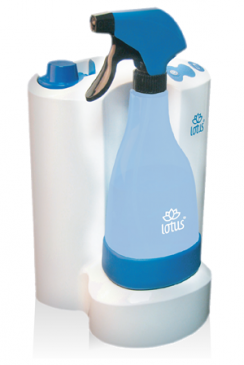 Print Friendly Version
PRO Trigger Spray Cleaning System
The lotus® PRO Trigger Spray chemical-free cleaning system turns ordinary tap water into aqueous ozone - an EPA, FDA and USDA approved cleaner and sanitizer. The aqueous ozone is made on-the-spot inside the base unit (must be plugged in) and transferred to a removable trigger spray bottle. It can eliminate up to 99.999% of common pathogens.
About the Cleaning System
Aqueous ozone is nature's most effective cleaner, stain remover, deodorizer and germ killer. It eliminates pathogens, grime, grease, mold, mildew and more from any porous or non-porous surface. It's also 50% more powerful than chlorine bleach and leaves no residues, reverting back to water and oxygen after heavy-duty cleaning.
Increase productivity by eliminating rinsing and the need for stocking, fetching and guesswork in using multiple chemical cleaners. Beats out quat-based and "green" cleaners in TURI tests.

Aqueous ozone produced by this unit maintains its cleaning power for up to 45 minutes.
Applications & Potential Uses
Use the Trigger Spray Unit to clean and sanitize furniture tops, fixtures, mirrors, telephones and coffee units. Deodorizes drapes, bed linens and comforters. Safely removes stains from carpet, upholstery, and other water safe fabrics. Cleans and sanitizes bathroom fixtures including shower grouting and toilet bowls, Use also in the spa, gym, dining facility and public areas including restrooms without rinsing.